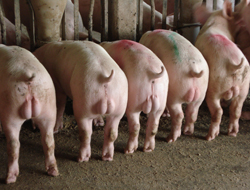 Before Use Of IMPROVAC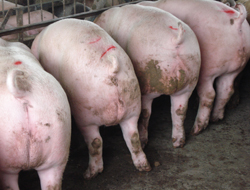 After Use Of IMPROVAC
Below you will find details of the prescribing information:
Key benefits of not castrating:
Improved feed conversion rate
Improved carcass yield (less fat, more lean meat)
Improved health (less mortality and infections)
Natural boar growth patterns
Potential for substantial return on investment
Same high eating quality as castrated pigs and gilts (no boar taint odours or taste)
Animal-friendly (elimination of complications or stress associated with physical castration)
Reduced environmental impact (less waste, less nitrogen and phosphorus, and reduced carbon footprint)
IMPROVAC is not recommended for use in breeding stock. Fertility of male breeding stock may be affected if inadvertent administration of more than one dose occurs.
Presentation:
100 mL (50-dose) and 500 mL (250-dose) vials
Dosage and administration:
2 mL subcutaneous injection is given at the base of the ear
Two doses must be given at least 4 weeks apart, with the second dose given 4–5 weeks prior to the anticipated time of slaughter.
In the case of pigs kept longer than 7–8 weeks after the second dose, GnRF antibodies may decline below effective levels, allowing return of testicular function and risk of boar taint accumulation.
Back to top

Storage:
Protect from light
Do not freeze
Store at 2—8°C (35°—46°F)
2 years from date of release
Back to top

Withholding time:
Every effort has been made to ensure the accuracy of the information published. However, it remains the responsibility of the readers to familiarise themselves with the product information contained on the product label or package leaflet.